The Charteris Centre in Edinburgh – a community centre housed in a former church – has been refurbished and extended to create a welcoming social hub containing spaces for hosting events, office accommodation, hot-desking facilities and a quiet 'sanctuary' room for peaceful reflection.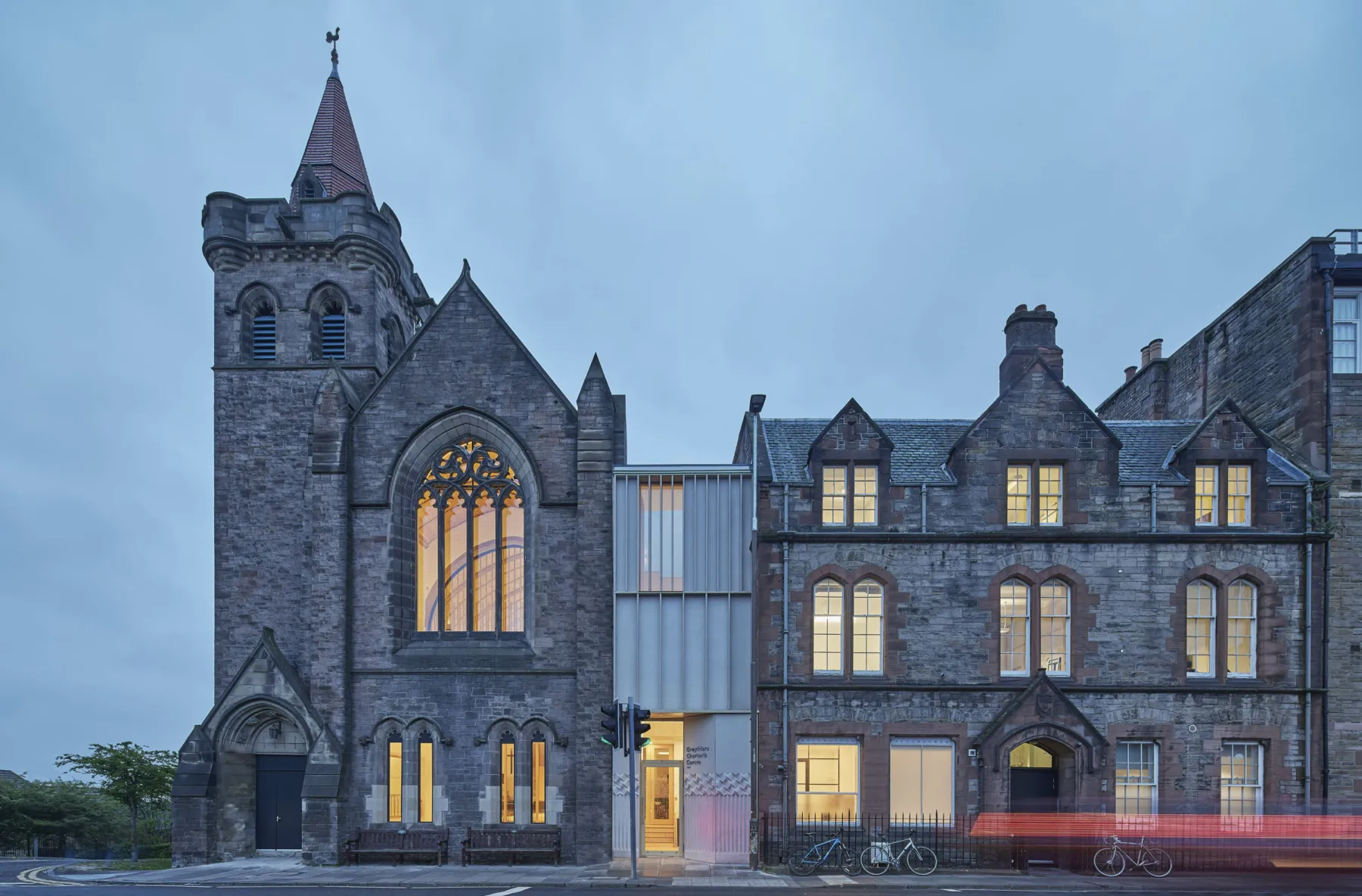 The centre was initially established by Greyfriars Kirk in 2016, in the former Charteris Memorial Church and its adjacent buildings, as a place to offer outreach support to the local community. It also provides a base for social enterprises, charities and other local groups. 
But the centre's design was considered somewhat detached from the community it was meant to be serving, with a number of different, often concealed entrances and, once inside, confusing circulation across multiple levels. 
The church restoration project was therefore conceived to make the centre more visible, outward-facing, accessible and functional for all its users.

Link building provides distinctive entrance
To achieve this, a timber-framed atrium with extensive skylights was constructed in the gap between the church and the adjacent building, which is also part of the centre. With white terrazzo cladding and striking vertical timber fins, this extension now provides a clear and distinctive entrance point to the centre as well as access to all floors via a lift. 
And with the different parts of the building opened up to this entrance hall on all levels, visitors can now easily navigate their route through the centre.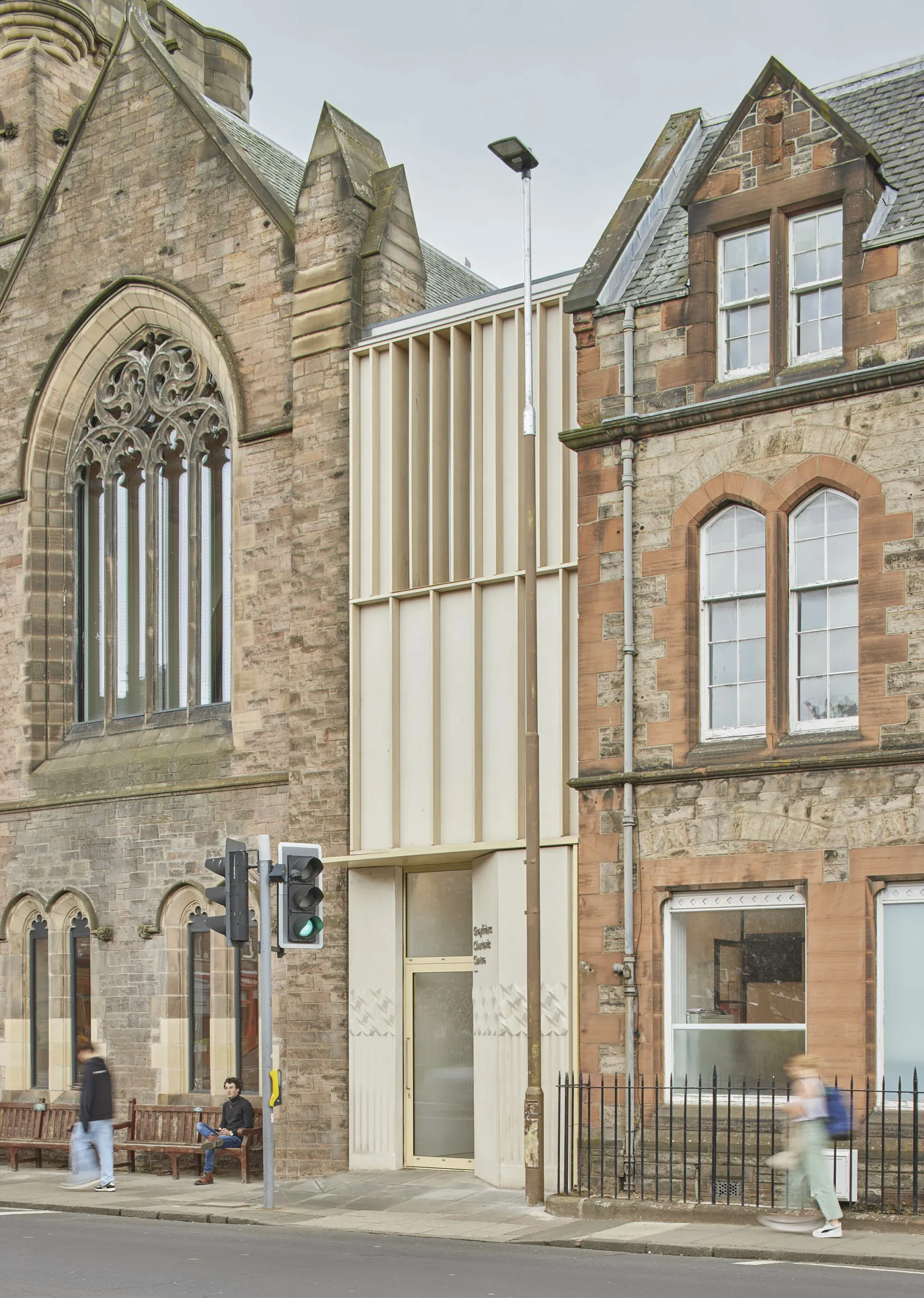 Our extensive reconfiguration of a former church building to form modern, attractive spaces for community use, the Greyfriars Charteris Centre, has fulfilled all our best expectations and looks stunning.
Greyfriars Charteris Centre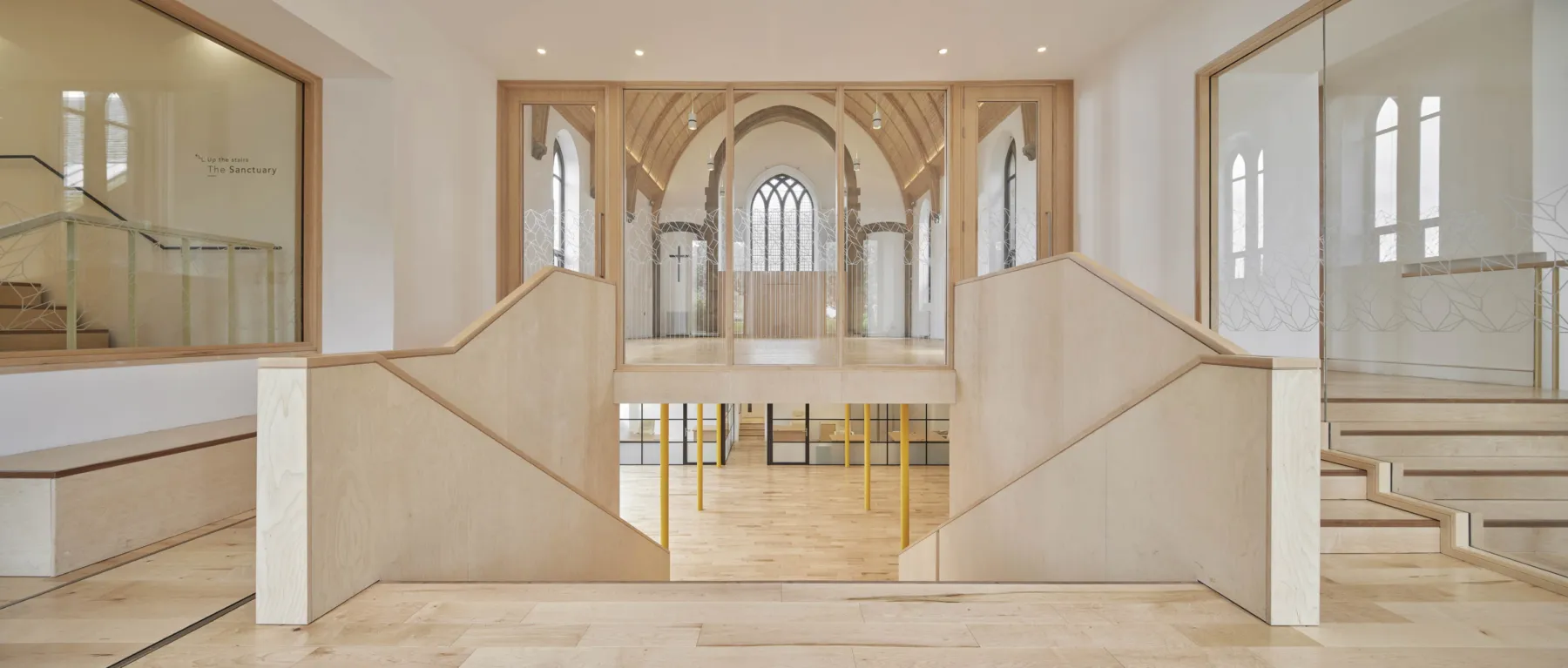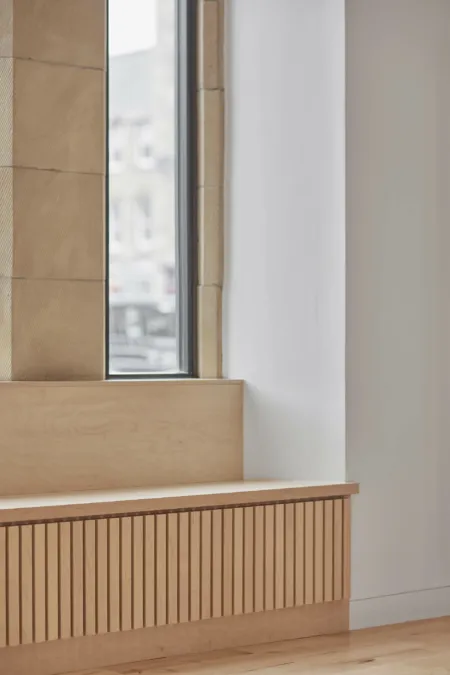 Response to 'outward-facing' brief
The former church's lancet windows were extended downwards to allow passers-by to look in at the proceedings inside and thereby encourage participation. A new tiered staircase leading from the main hall to the lower ground floor, complete with seating area on a wide landing, links the hot-desking hub below with the community functions above and is also visible from outside.
Timber and glazing are combined imaginatively throughout the new and refurbished parts of the building to transmit light into the interior and also to allow visual connection between the building's multiple users.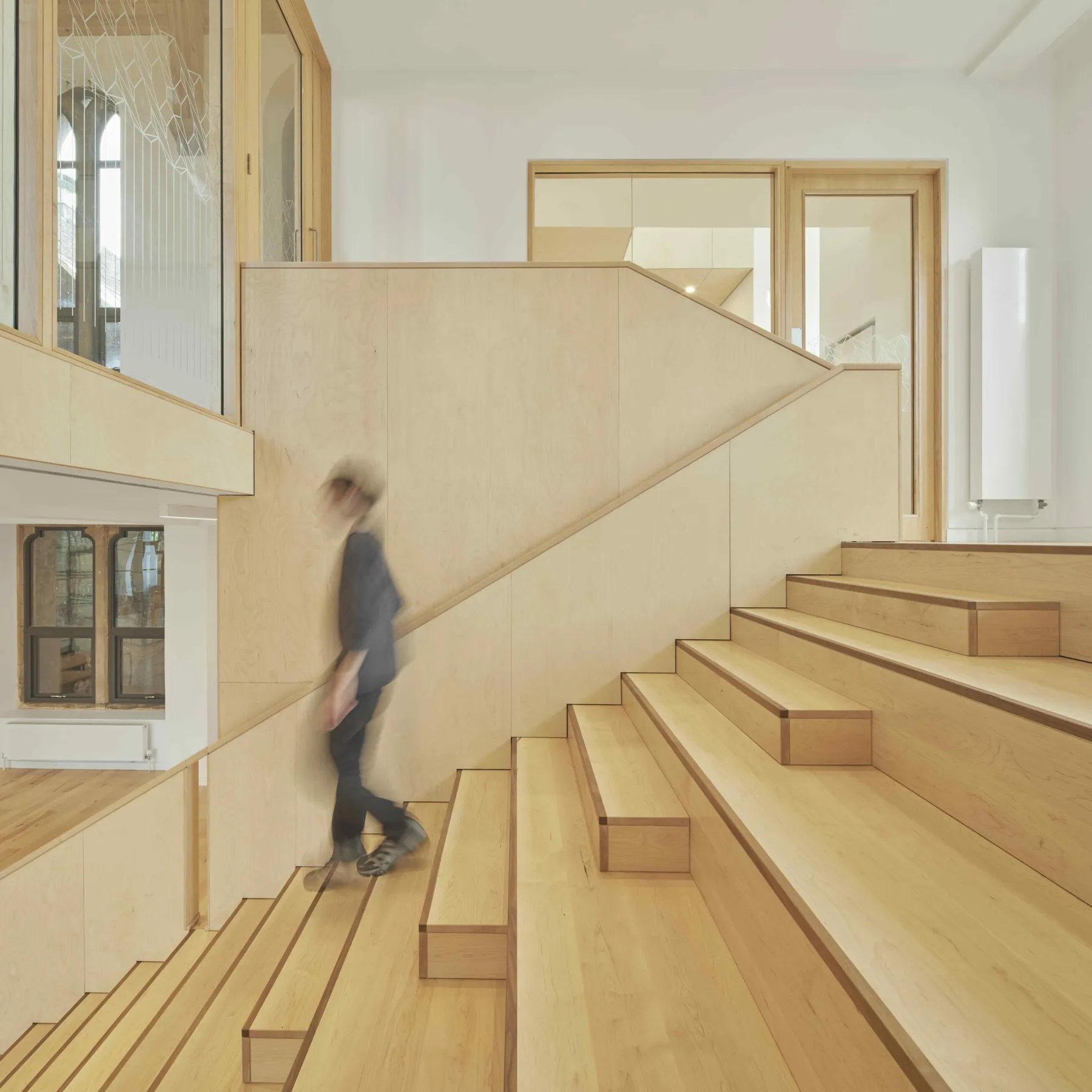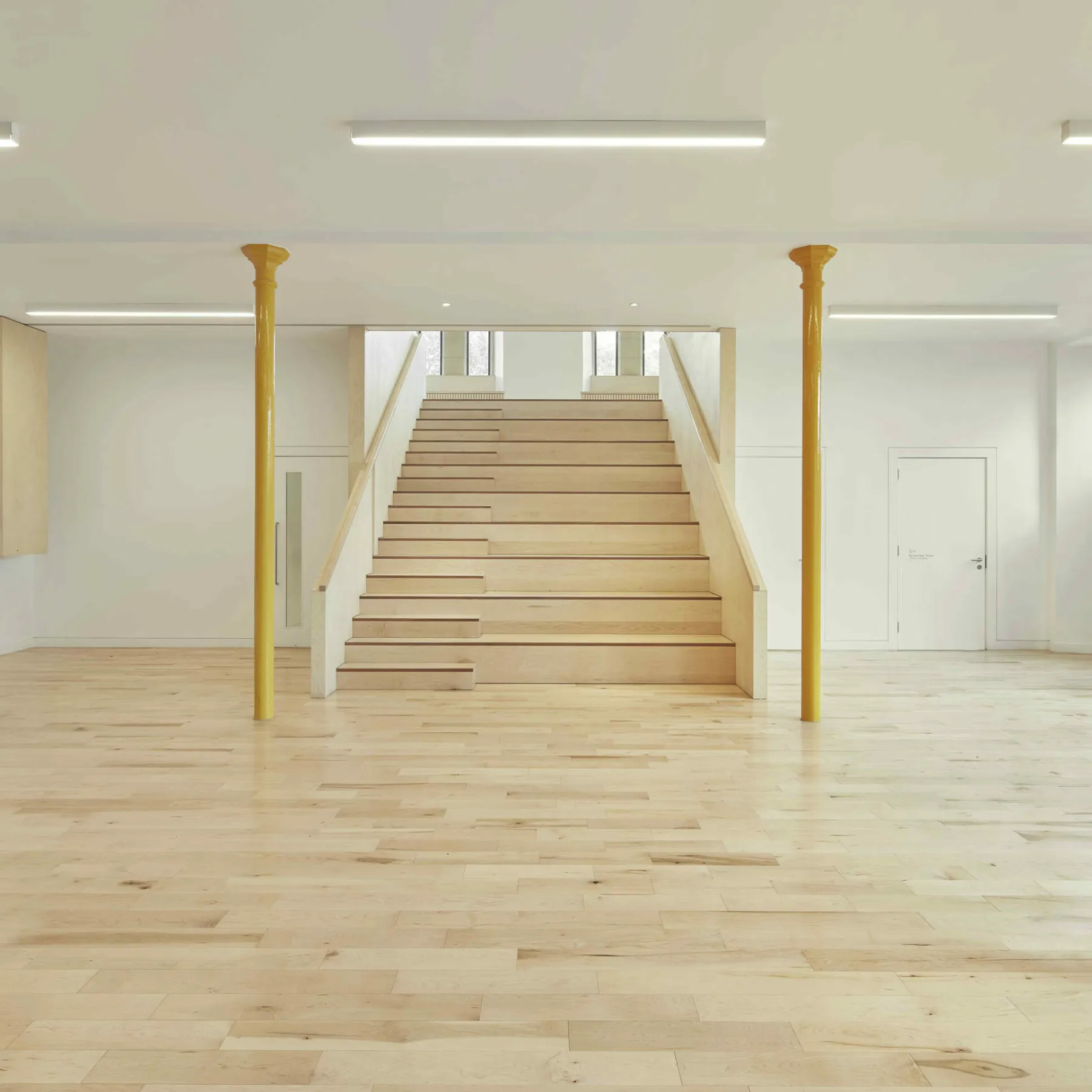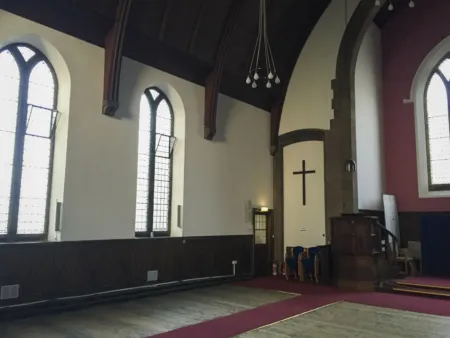 Improved energy efficiency
Energy efficiency was a central feature of the client's brief and the environmental performance of the overall building was improved by the addition of loft and floor insulation, double glazing, a new heating system and low-energy lighting. Solar panels were also added to a large south-facing roof.
Cost advice in delay-hit construction
The construction stage was affected by delays from the start owing to the first COVID-19 lockdown. The contractor was required to vacate the site during the initial downtaking and demolition. As quantity surveyor, we assessed the full financial implications of these initial delays and reported these to the client and the wider team. 
We provided regular and ongoing updates as the COVID-related stoppages continued through the project. In this period of great uncertainty, clear communication of cost and contractual advice to the client was crucial. 
Good record-keeping was also key in being able to separate delays due to COVID from those due to other issues and thus allocate costs appropriately.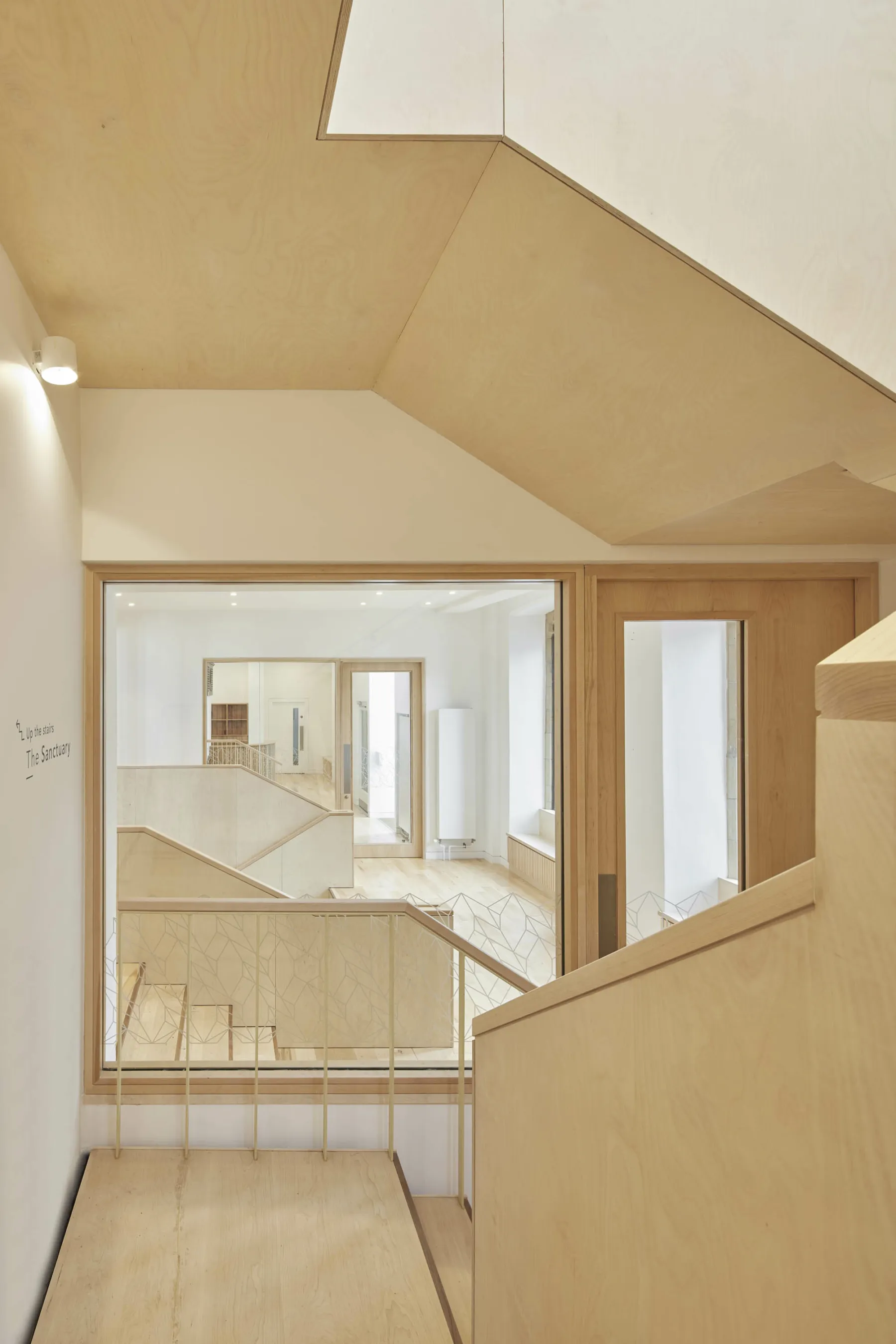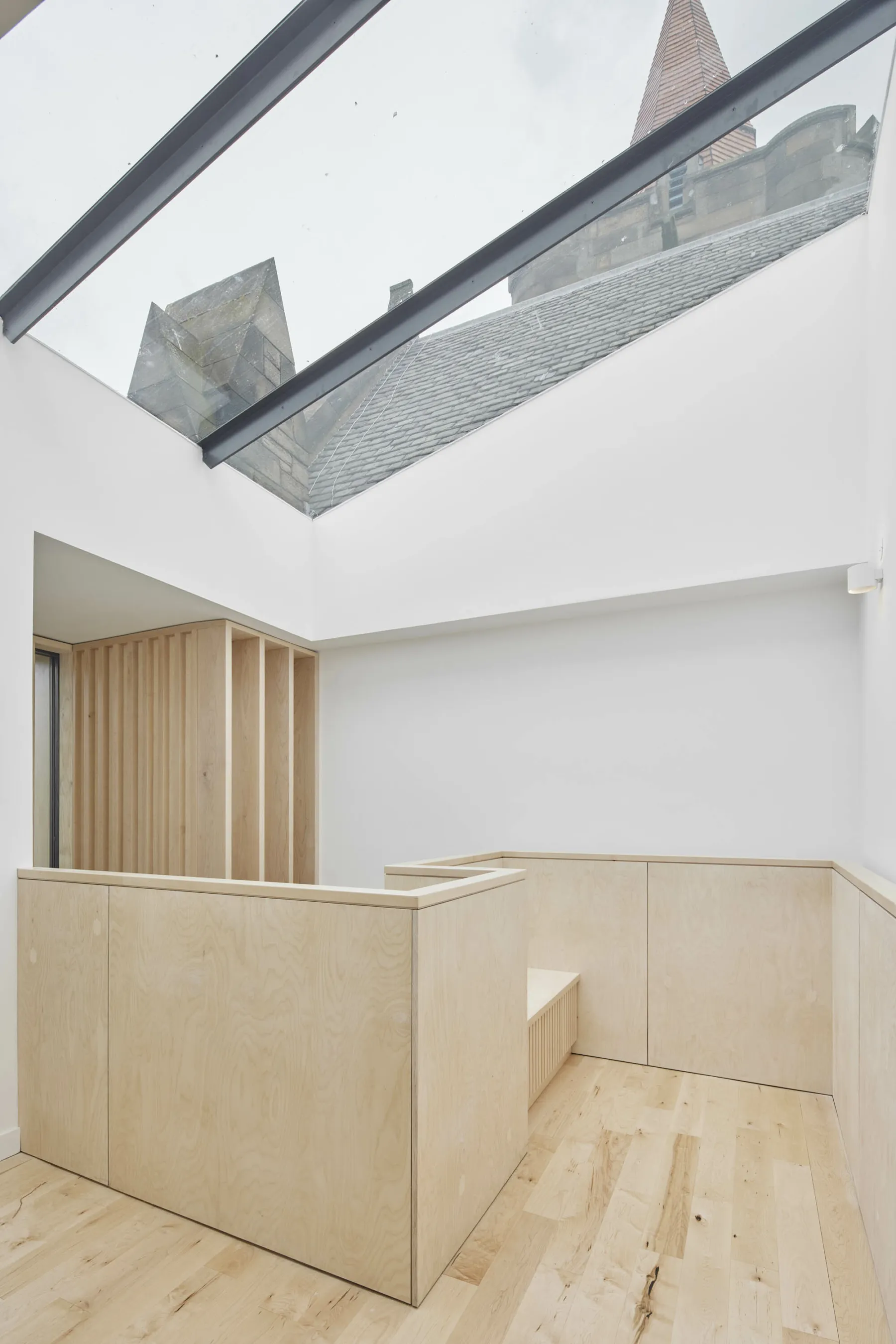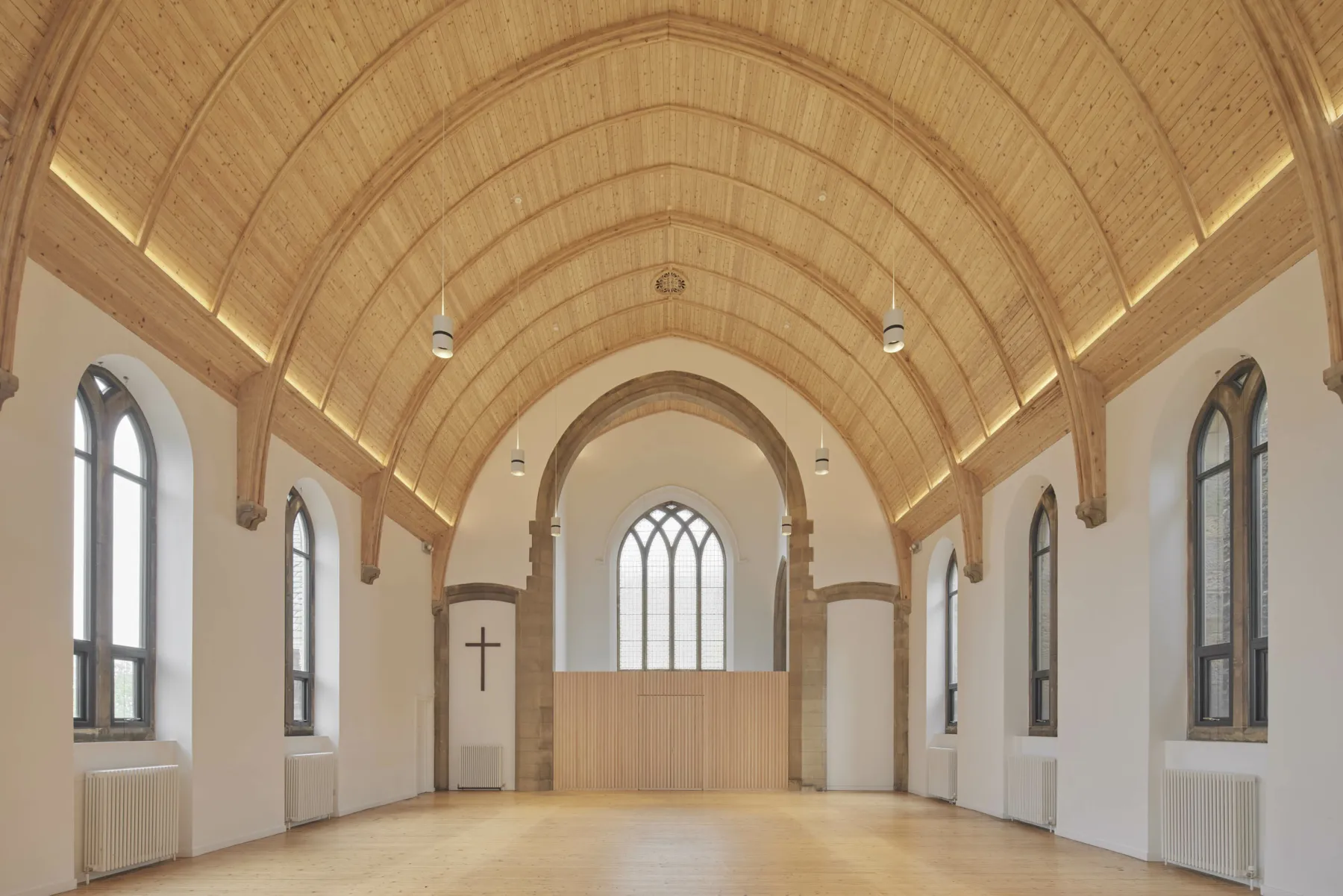 Steps to mitigate risk of historic church restoration
Conservation projects involving major alterations to an old building are generally risky, due to the increased likelihood of unforeseen problems. We helped to reduce this risk by adopting a traditional approach to procurement. 
We were also aware of additional risks to the schedule from likely supply issues following lockdown. We encouraged the client to reduce these risks by, for example, paying manufacturers directly for bespoke windows and joinery to ensure timeliness of delivery, and by reserving key materials through up-front payments in advance of their delivery to site. 
In such cases, steps were taken, as far as possible, to protect the client from loss.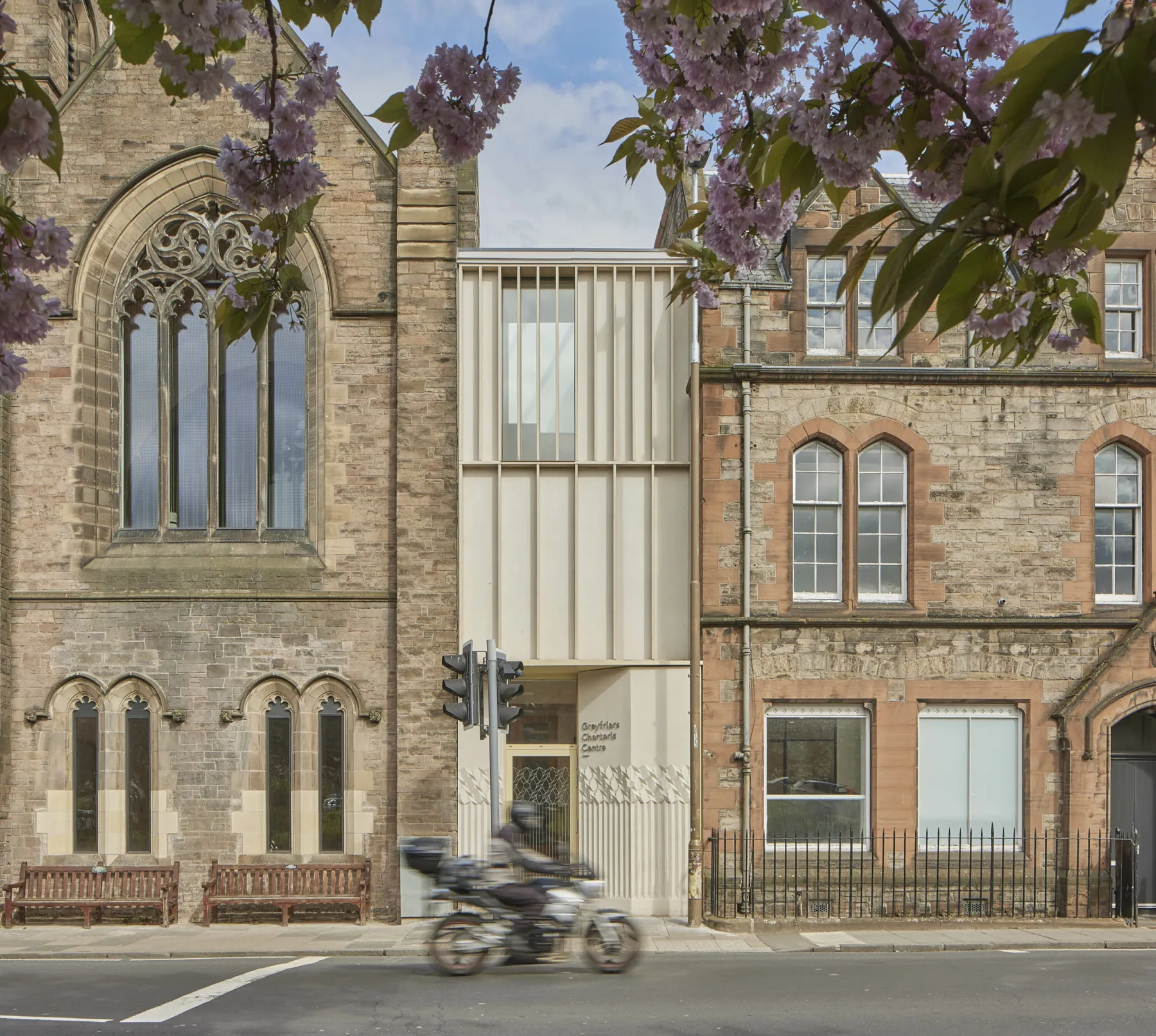 Successful management of the change process
Excellent cost reporting allowed us to keep rigorous control of the change process in order to deal with hundreds of variations and four 'extension of time' claims. And throughout the project we provided accurate cost advice to the church committee to help them with their decision-making. 
Ultimately, despite the significant impact of cumulative delays on the schedule and the reopening of the building, the agreed final account turned out to be very similar to our initial cost estimate.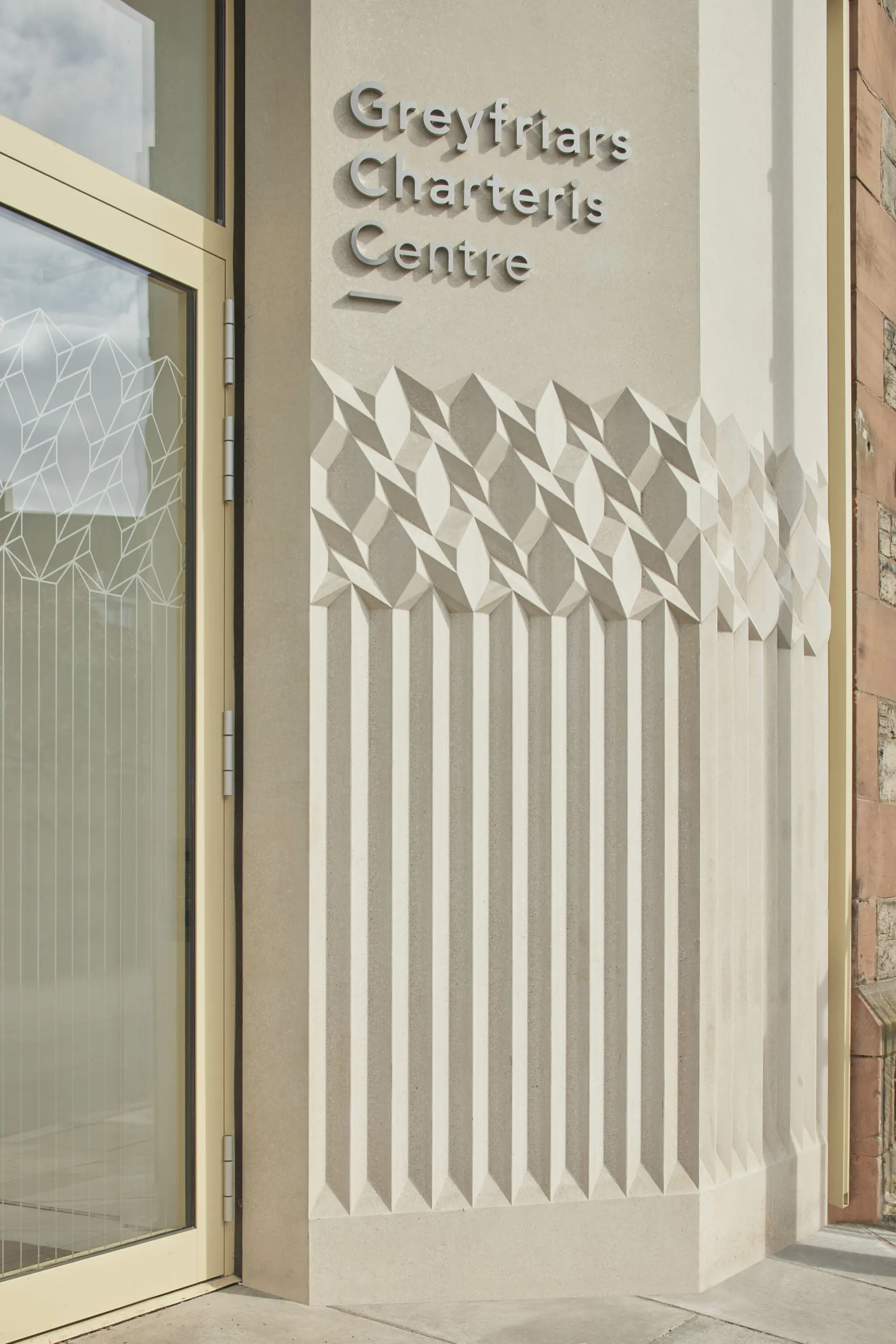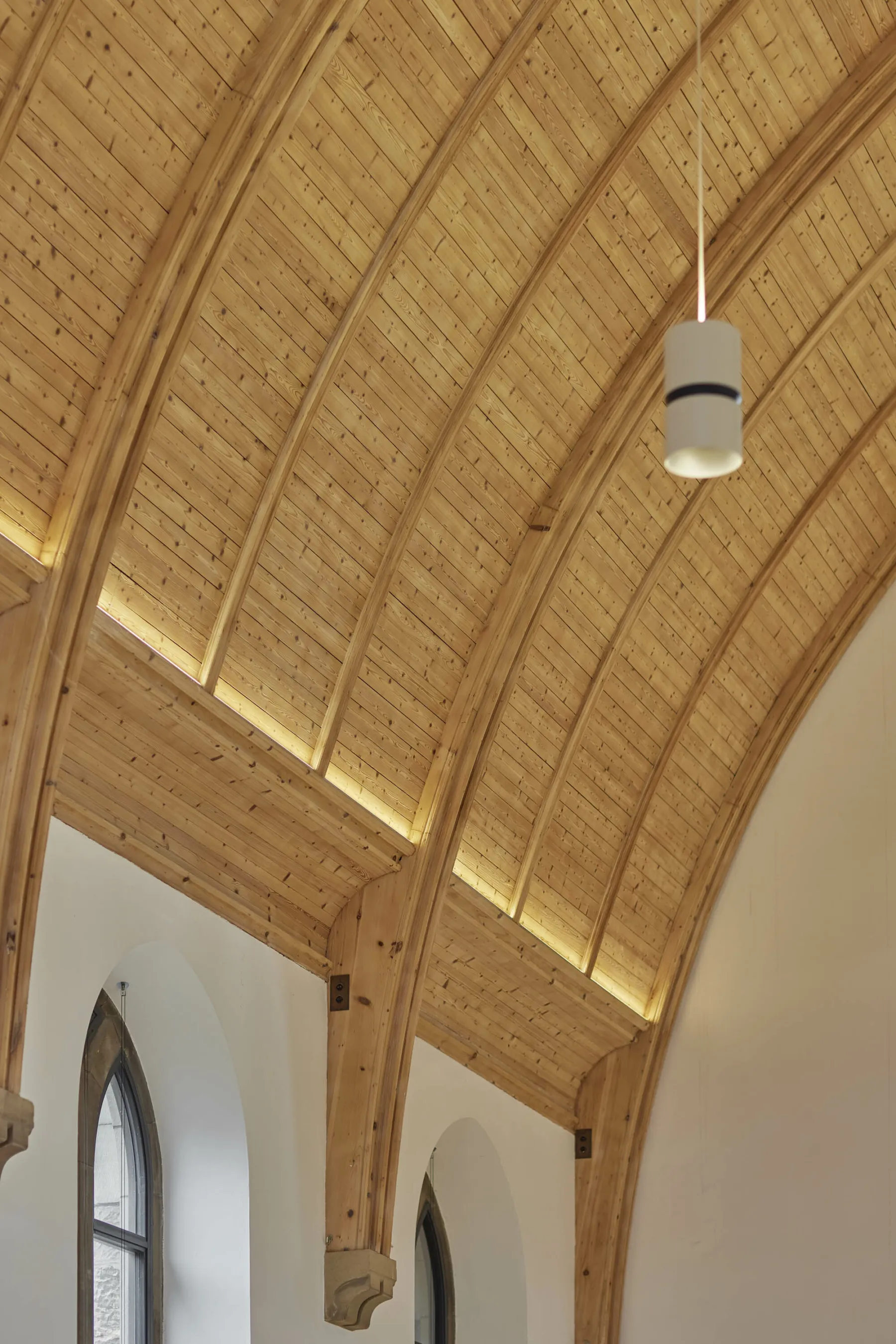 There were challenges along the way through covid-related delays and cost pressures, and Thomson Gray were our key advisors in navigating through them to a successful and affordable conclusion.
GREYFRIARS CHARTERIS CENTRE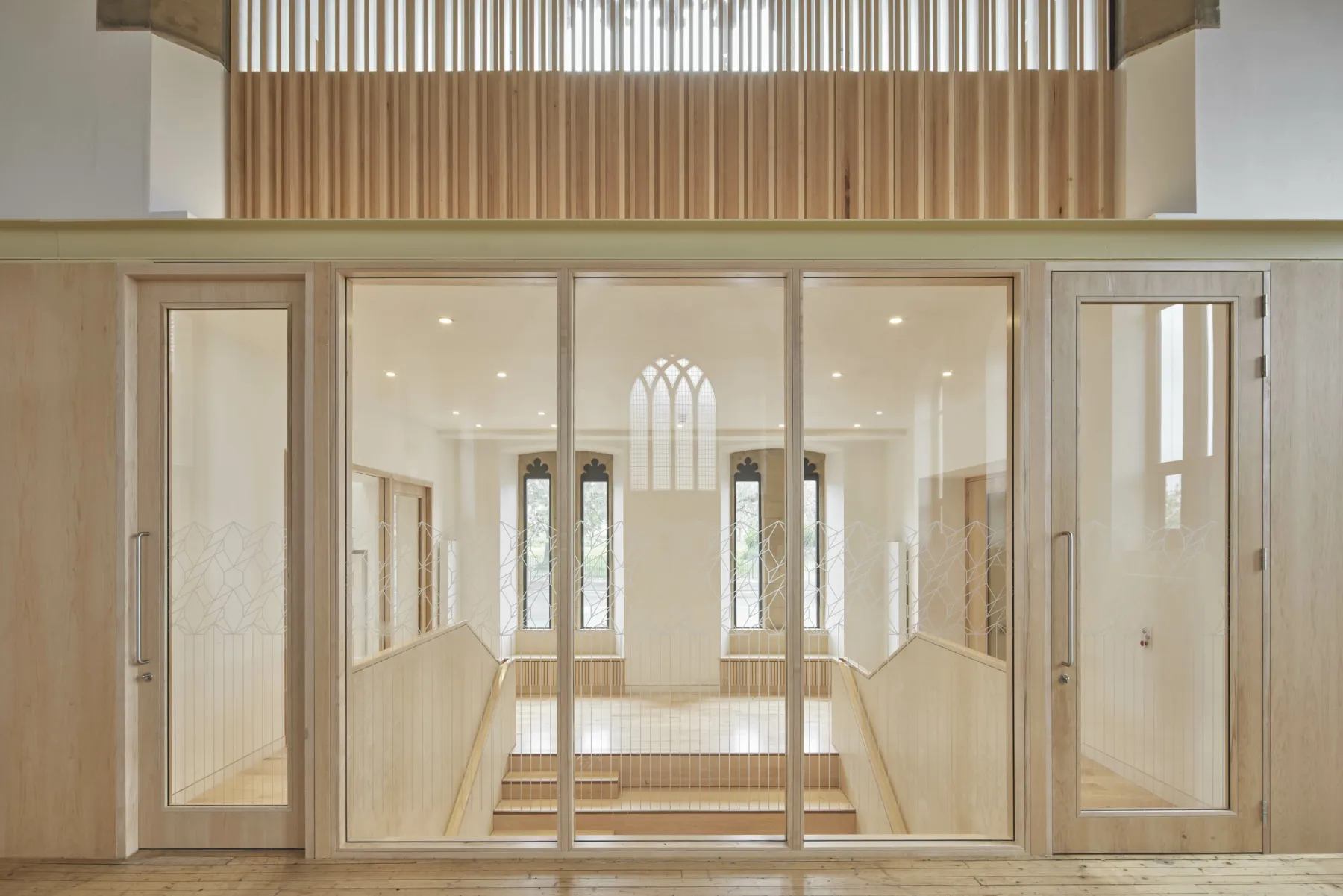 CREDITS
Architect Konishi Gaffney Architects
Contractor SJS
Joinery Old school fabrications
Services Engineer Irons foulner
Quantity Surveyor Thomson Gray
Images and video Nanne Springer
Awards
2023 Scottish Design Gold Award: Retrofit
2022 EAA Large Project Award: Commendation