The new Haematology Centre at the Western General Hospital expands and upgrades treatment facilities within the Edinburgh Cancer Centre – in particular by integrating in-patient and day-case facilities into a single unit, with the goal of improving patient care and allowing staff to work more flexibly between the two services.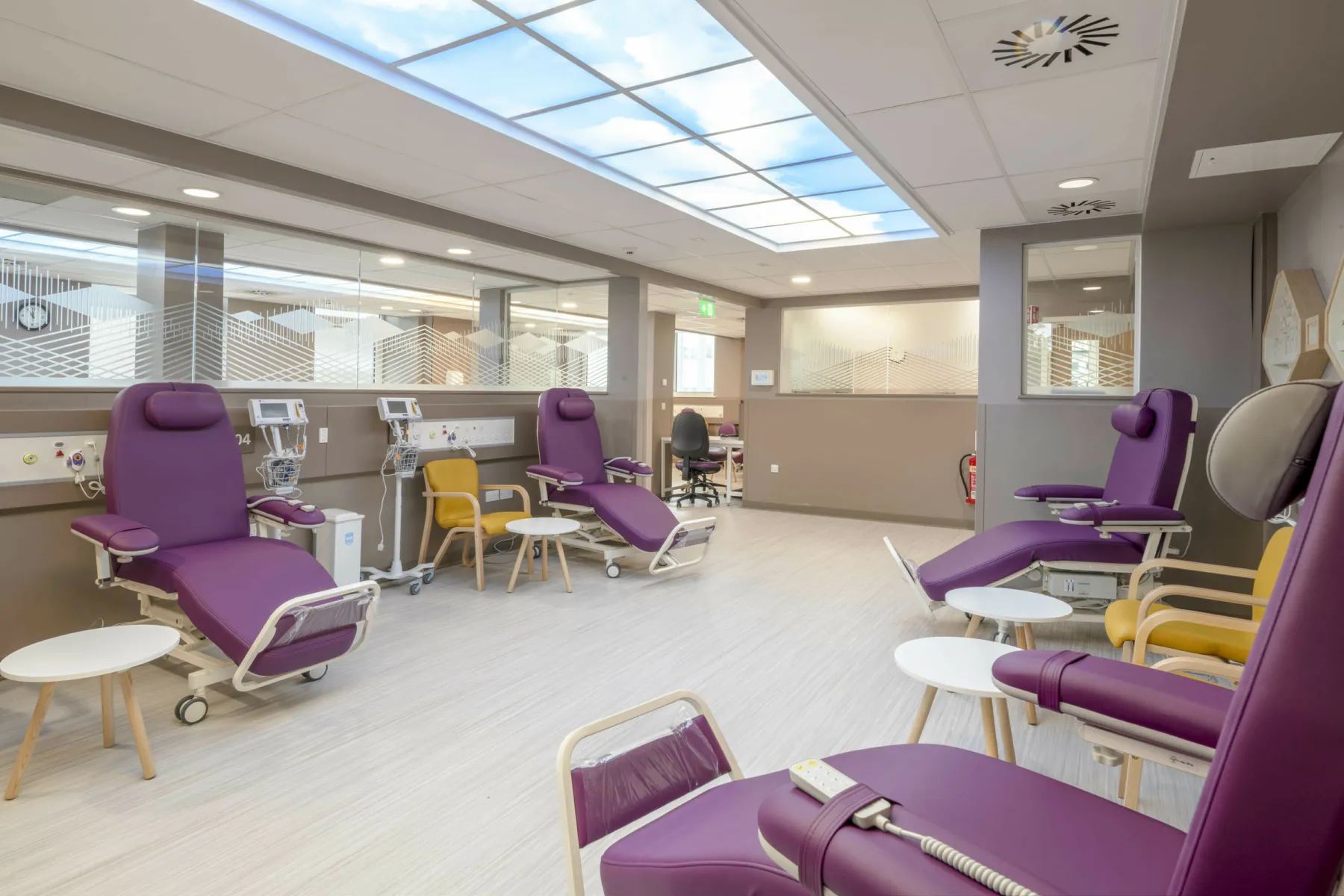 The new centre also allows some treatments that are traditionally delivered in the in-patient setting to be carried out in the extended day-case facility, cutting back on the need for long stays in hospital.
Patients and staff were consulted with regard to the design of the clinical facility as well as the aesthetics of the interiors, which were chosen to create a calm, comfortable and pleasing environment to enhance the well-being of the building's users. 
Patients were also involved in selecting the many artworks on display, which were commissioned as part of the drive for a more positive, and less anxious, experience.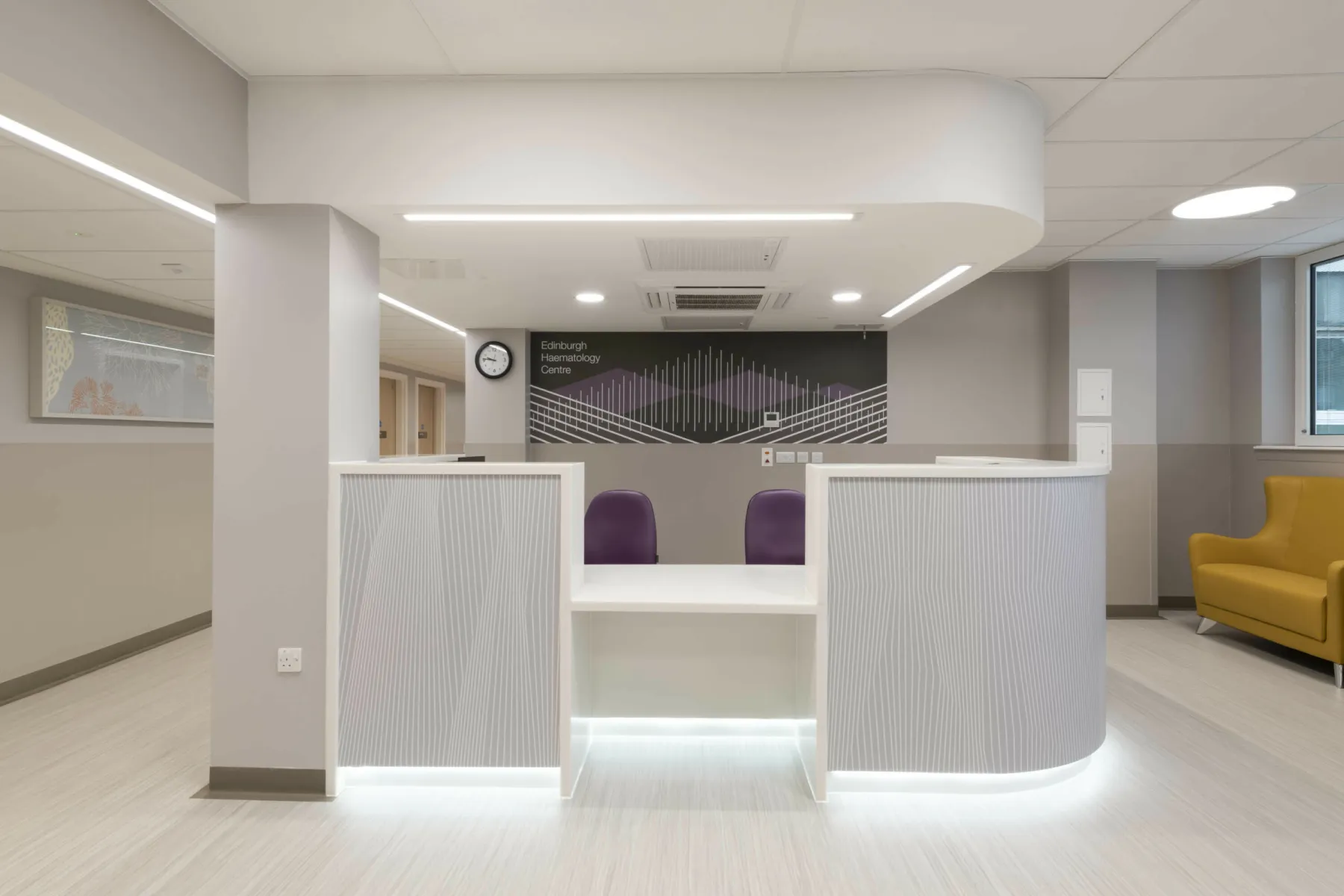 The changes have really made a huge difference. Care is much more than treatments and medicines. Being able to provide privacy and a calming environment helps to relax patients and having more space and cutting-edge equipment helps us to do our job even better.
Fiona Smith
Senior Charge Nurse of Haematology Day Treatment
Hospital refurbishment and extension
The project included the refurbishment of two levels, with multi-bed rooms in existing level 3 wards being replaced by en-suite single bedrooms, for increased privacy. Level 2 has been converted from its former use as laboratories into new multi-person and single-room treatment areas for day-case patients.
These works included the full strip-out and reconfiguration of mechanical and electrical services, the installation of new windows and modern insulation, and an upgrade of the existing roof structure to support new plant and more efficient air-handling units.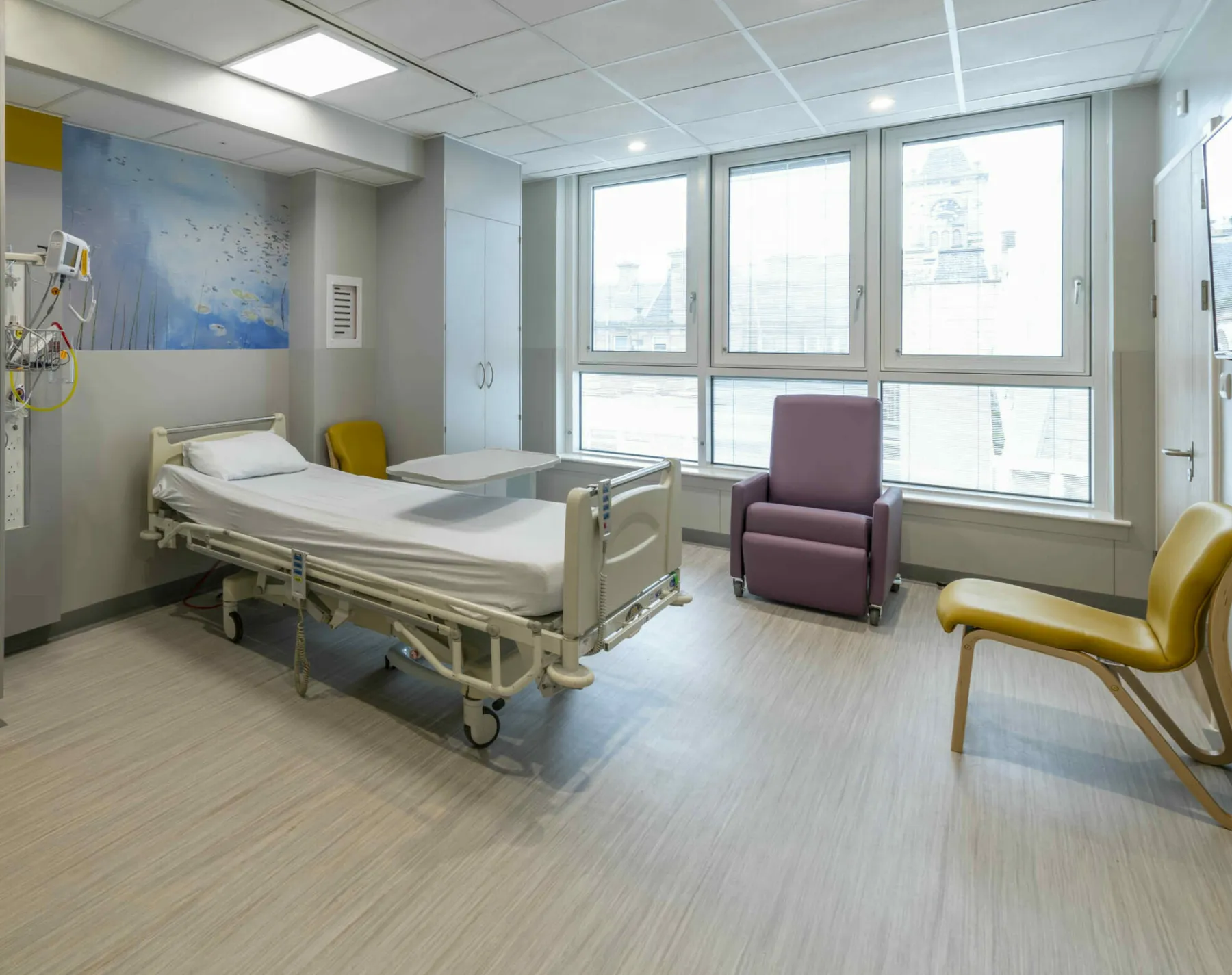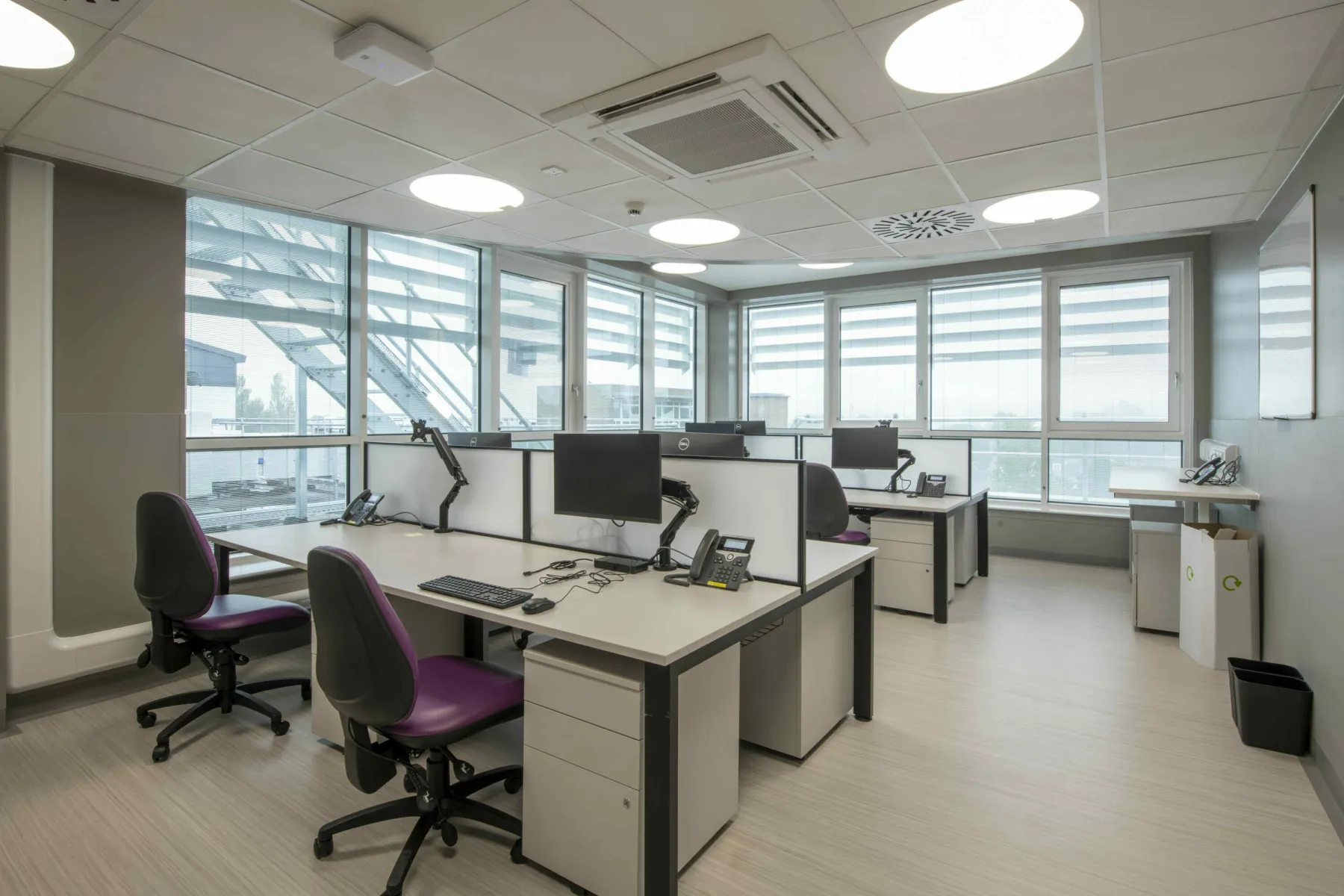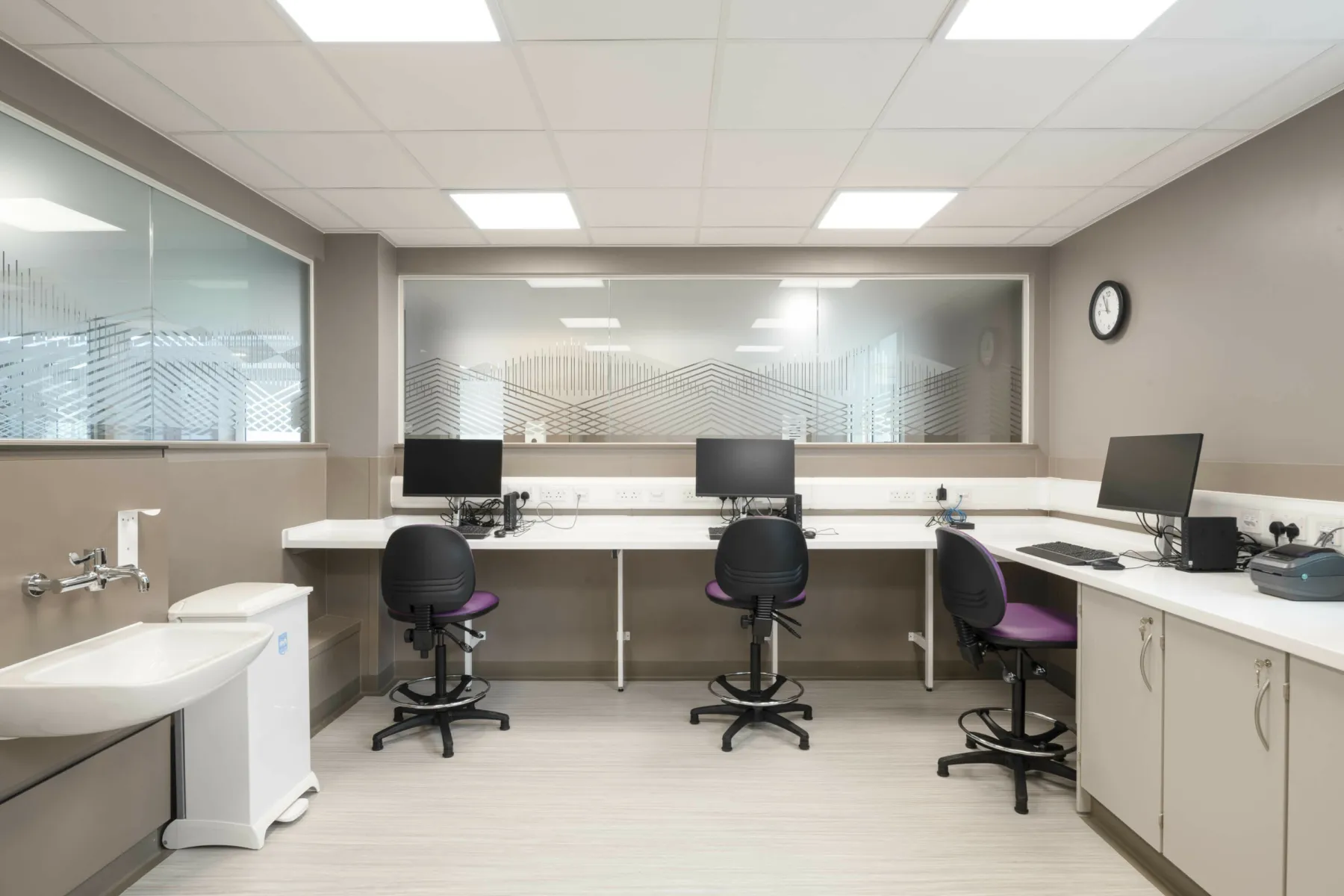 A new rooftop extension over the existing Teenage Cancer Trust unit provides office and administrative spaces. There is also a new suite for relatives and 'buddy beds' so that patients can be better supported by family members.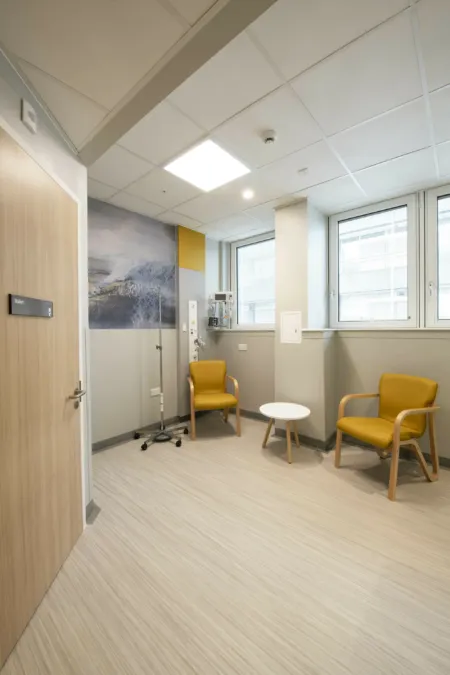 Multidisciplinary role
The Haematology Centre is part of the Western General Hospital Programme of Works, a series of upgrade and refurbishment projects throughout the hospital complex for which we have provided a wide range of services. 
Acting in six roles – as lead advisor, project manager, quantity surveyor, contract administrator, NEC supervisor and principal designer – we have dealt with each project both individually and as an interlocking part of the whole programme.
There are numerous cross-pollination advantages to such extensive in-house involvement, particularly when managing complicated, multi-phase healthcare construction projects in a 'live' hospital situation.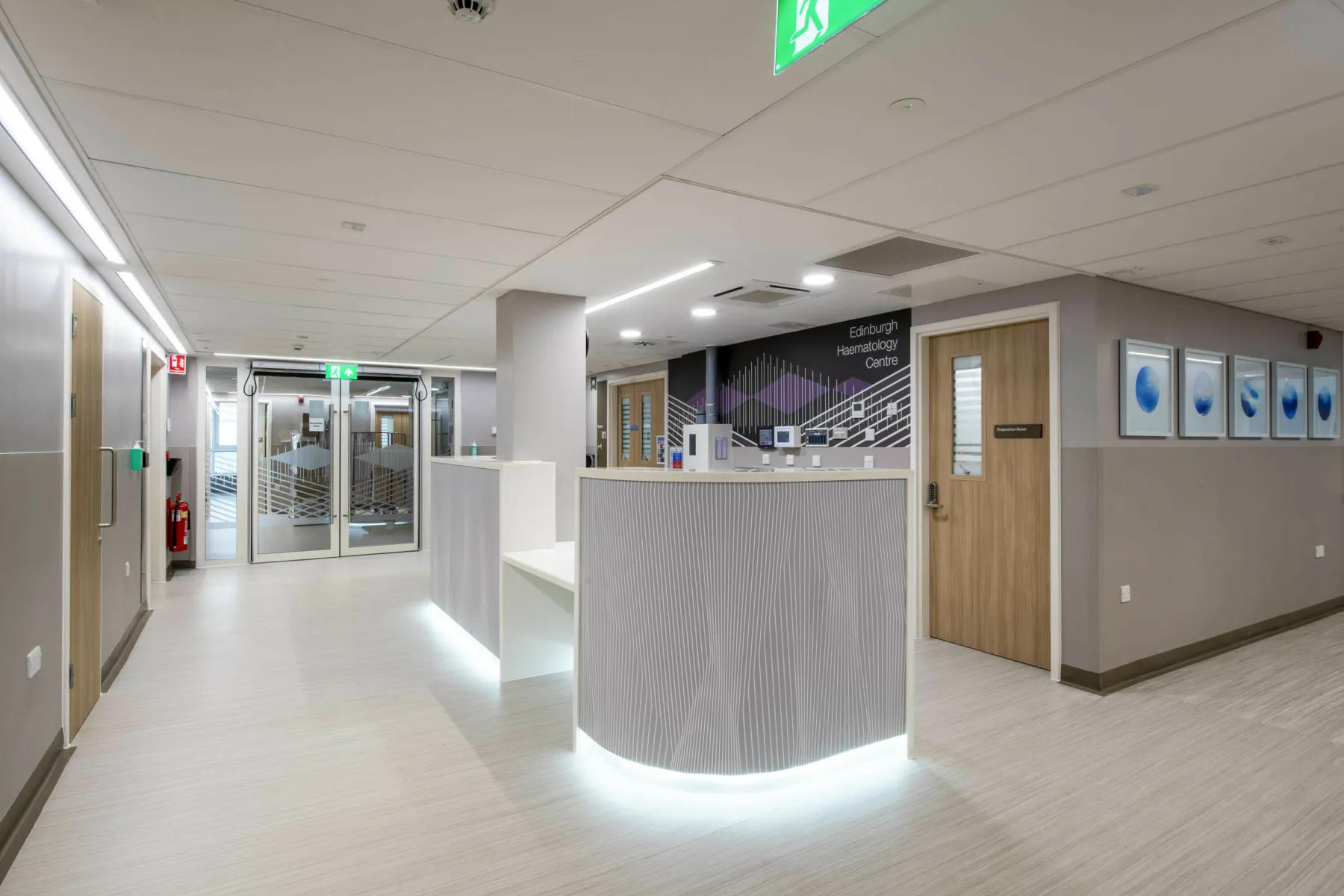 Working on a 'live' site
Minimising disruption to ongoing healthcare functions was a key challenge on this project. 
One major decision in this respect was to decant the breast unit located directly beneath the forthcoming level 3 works into a mobile operating theatre in an adjacent car park. Enabling works were required to support this relocation and a temporary link corridor from the main building was installed.
Overall, the challenges presented by the live site were overcome by working collaboratively and proactively with all stakeholders, conducting regular look-ahead meetings to keep the project team, clinical staff and hospital managers informed about upcoming works, deliveries and other issues, and responding speedily when potential problems were identified on site. We also agreed a robust 'stop' protocol for emergencies.
Completion and reopening
The new centre was opened to patients in 2021 in line with the masterplan for the Western General Hospital Programme of Works. The redesigned facility was welcomed by staff and patients for its use of creative and innovative techniques to enhance the patient experience.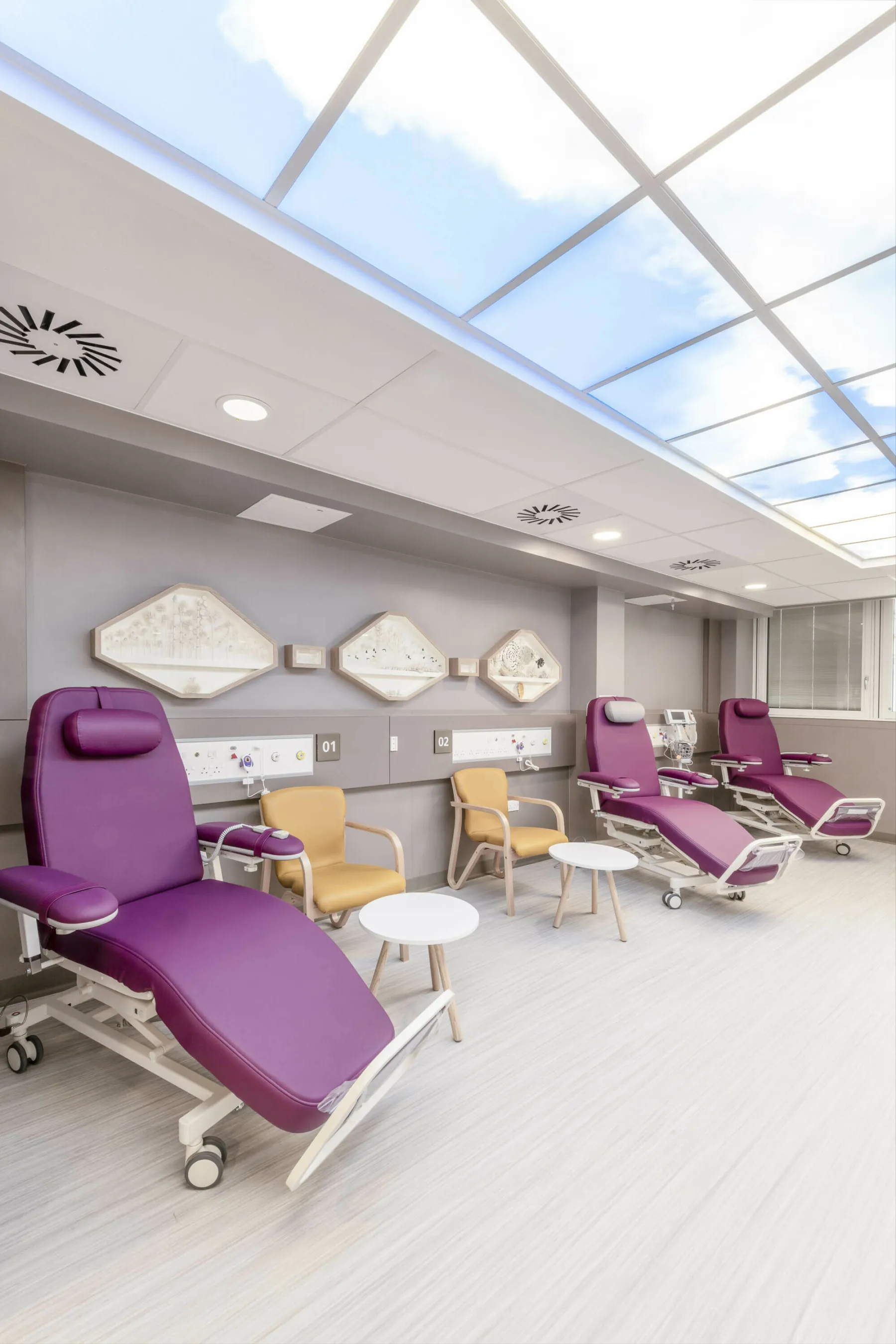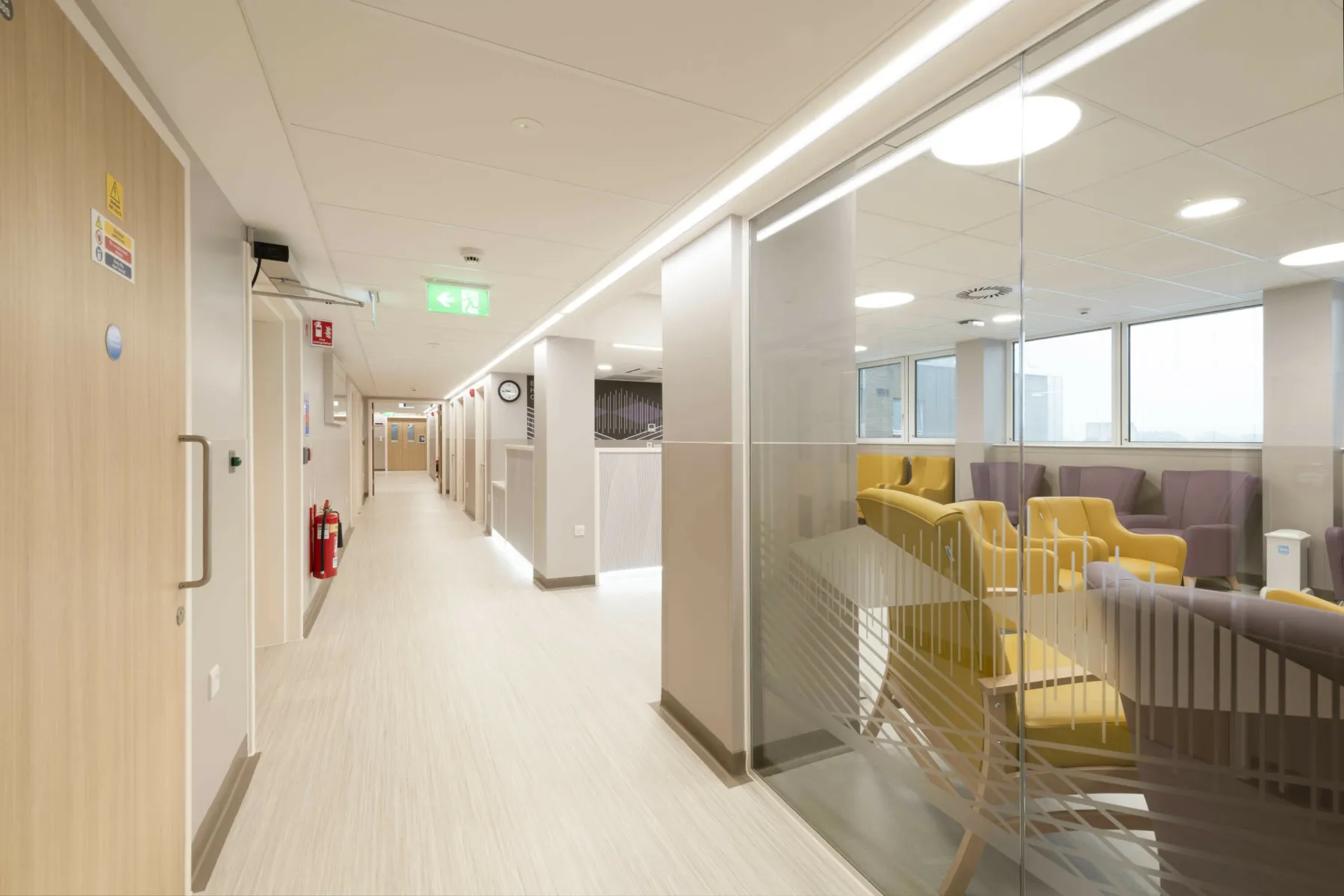 CREDITS
Contractor RMF Health
Architect Oberlanders
Services Engineer Hulley & Kirkwood
Structural Engineer Curtins
Lead Advisor Thomson Gray
Project Manager Thomson Gray
Contract Administrator Thomson Gray
NEC Supervisor Thomson Gray and XBuro
Principal Designer Thomson Gray
Quantity Surveyor Thomson Gray
CDM Coordinator Doig+Smith
Images Paul Zanre